Plastic Card Personalisation
Our plastic card personalisation and bureau service provides you with the ability to personalise individual plastic cards, store information and manage a database or loyalty scheme, tighten security and control access. We offer plastic card personalisation and plastic card products in the following areas:
Signature panels
Embossing
Thermal print
Scratch panels
Card carriers
Card wallets
Magetic tapes
Barcoding
Inkjet
ID and photo cards
Fulfilment and mailing
Plastic card accessories
To complete our plastic card service a fulfilment and mailing facility is available. We offer a technical and support service to enable you to receive advice and assistance in selecting the correct application or system for your plastic card requirements.
UK Plastic Card Manufacturers
Call us now to discuss your plastic card personalisation requirements from an established UK plastic card manufacturer.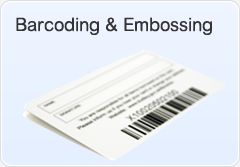 Latest News
16th Jun 2015
10th Oct 2011
6th Jan 2010